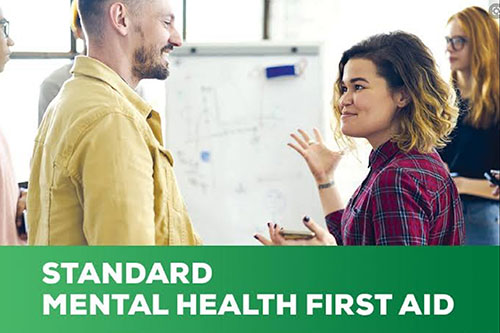 Mental Health First Aid is a concept developed to educate and assist the general public about the most simple and practical skills in assisting family, friend and co-worker who is experiencing mental health crisis until appropriate professional help is received or the crisis is resolved.
Mental Health First Aid Course Information
Mental Health First Aid (MHFA) Course is designed and promoted by the MHFA Australia to teach participants how to assist members of the public, friend, family and co-worker who are experiencing a mental health crisis until the person receives professional help.
Our Mental Health First Aid (MHFA) course provide you with basic understanding of different kinds of mental health illness and their symptoms. Our course is delivered by an Accredited Mental Health First Aid Instructors. Upon successful completion of the course, a Mental Health First Aid (MHFA) Australia Certificate will be awarded to the participants.
This is Face-To-Face Standard Mental Health First Aid Training that run over 2 days for 12 hours. Each day covers 6 hours of content. On completion of the course, participants will be eligible for National Accreditation as a Mental Health First Aider. Included in the training cost is (1) Latest Mental Health First Aid Manual (2) Certificate of Attendance (3) Morning and Afternoon Refreshment.
Course Structure
In Mental Health First Aid (MHFA) training, you will learn about mental health disorders and crisis which includes the followings:
Anxiety Disorders

Depression

Mood Disorders

Substance Abuse Disorders

Psychosis

Trauma
When and Where
| | | | | | |
| --- | --- | --- | --- | --- | --- |
| Date | Time | Location | Places | Cost | Status |
| 22nd & 29th April 2022 | 09:00 am - 4:30 pm | Comfort Inn Dandenong 124 -126 Princes Highway, Dandenong VIC 3175 | 22 | $295.00 |   |
| 15th & 22nd July 2022 | 09:00 am - 4:30 pm | Comfort Inn Dandenong 124 -126 Princes Highway, Dandenong VIC 3175 | 22 | $295.00 |   |
| 18th & 25th June 2022 | 09:00 am - 4:30pm | Living & Learning Inc. 6B Henry Street. Pakenham VIC 3810 | 22  | $295.00 |   |
| 7th & 14th October 2022 | 09:00 am - 4:30 pm | Comfort Inn Dandenong 124 -126 Princes Highway, Dandenong VIC 3175 | 22 | $295.00 |   |
| 16th & 23rd July 2022 | 09:00 am - 4:30 pm | Foundation Learning Centre 1 Malcom Court Narre Warren VIC 3805 | 22 | $295.00 |   |
| 19th & 26th November 2022 | 09:00 am - 4:30 pm | Foundation Learning Centre 1 Malcom Court Narre Warren VIC 3805 | 22 | $295.00 |   |
Mental Health Crisis covered:
Suicidal Thoughts and Behaviours

Panic Attacks

Aggressive Behaviour

Severe Psychotic State

Effects of Alcohol or Other Drug Use

Traumatic Events

Self-Harm Behaviour
Who Can Attend MHFA Training
Counsellors

Allied Healthcare Practitioners

Youth Workers

Social Workers

Teachers

Community Leaders

Welfare Workers

Support Workers

Nurses

Lawyers

Managers

Aboriginal Health Workers

Others
Please click on Online Form below to Register your interest or Contact us directly on: 1300 335 222 or 0403346298 alternatively email us at: enquiries@delbaccs.com.au